"Most children, from older preschool to adolescence, respond to parental divorce as one of the most destructive stressors," says child psychotherapist Albina Loktionova. – Experiences are especially painful in the first weeks and months. Health deteriorates, aggressive behavior, apathy, difficulties in school and in relations with friends appear. "
The child lives with the feeling that the world is crumbling around him, he no longer feels safe. But psychological trauma can be avoided. Moreover, a divorce can even become a constructive event for a child – if adults were able to humanly agree on its terms and both support the child.
This test allows children to know where they are in the life of their parents. If, during the separation, adults first of all care about the child, even despite the differences between them, he will be convinced of what means a lot to them.
Parents should explain so that the child clearly understands that it is not his father and mother who are breaking up, but the husband and wife.
On the other hand, divorce allows children to understand that love does not always last forever and when it passes, the world around does not collapse, but a new life begins. Should parents have any special skills so that divorce does not become a tragedy for the child? No, this is not required at all. They just have to think – together or separately – how they will behave in this situation.
"We are to blame for everything"
Among the many painful and conflicting experiences that parents face during divorce, one of the most excruciating is guilt. And it is often unfounded. Divorce is an act that deserves respect. Because you need to find the strength in yourself to give up a life that no longer suits you, and not to use children as an alibi ("I did not get divorced just because of you"), making them feel indebted for their whole life.
Divorce is often the best solution for a child. Seeing the quarrels of his parents, he unconsciously feels that they are no longer united. This not only worries him, at this moment he develops an idea of ​​a love relationship that will affect his whole life. At the reception of psychologists, there are many testimonies of this: "How could I be good? In our family, I have never seen adults love each other. "
Before divorce: inform the child
When the decision is final, it is important to tell the child about it. Moreover, not just to confront the fact, but to give him the opportunity to ask questions.
Every child has a right to this, since the change in family life directly affects all family members, regardless of age. Parents should explain so that the child clearly understands that it is not his father and mother who are parting, but the husband and wife. That long before his birth, his parents were a couple (he can understand this only if you explained to him before what sex life is); that you loved each other so much that you wanted him / her to appear – this clarification is absolutely harmless, because this way the child will know that he was desired.
But today you don't love each other enough to continue living together. And, despite this, you will forever remain his parents, you will see him, take care of him, support him.
Of course, at this moment it is very difficult to find the right words and pronounce even the most verified phrases. "You should speak as neutral as possible," advises existential therapist Marina Khazanova. – Do not dryly say: "Dad and I have stopped loving each other," because for a child this means that he too may one day be taken and stopped loving.
It is difficult for children to express their feelings in words, but tears lighten the soul if these are tears of sadness, and not resentment and fear of being alone
You can put it another way: "It's okay to get angry and sometimes even shout loudly, but my dad and I fight all the time. We are no longer happy with each other and we want to leave, to live separately. We thought about it a lot, but we have no other choice. "
It is possible that your words will be followed by tears, anger and even aggression. But it is important to let the child express his feelings – he has every right to them.
"Regret and pain must be cried out," explains Albina Loktionova. "It is difficult for children to express their feelings in words, but tears lighten the soul if these are tears of sadness, not resentment and fear of being left alone."
Most likely, immediately or after a while, the child will start asking questions: why did the parents make such a decision, why did they quarrel? Do I need to go into details? "No," all experts agree. And above all because such a request often reflects the unconscious thoughts of children about incest, a desire to learn or see something from the intimate life of a parental couple.
In addition, the intimate life of parents concerns only the two of them, and, of course, children should not know the details.
"When parents blame each other, the child begins to confuse the roles of father and husband, mother and wife," adds Marina Khazanova. – He takes such accusations extremely painfully, and because he loves both mom and dad, whatever they are, and he feels their best qualities and worst shortcomings in himself. Therefore, children often unconsciously take adult accusations at their own expense, and later it is very difficult for them to treat themselves positively. "
If your divorce is too painful and difficult for you to discuss, tell your child directly.
Finally, the reasons for the emergence and extinction of the desire that adults have for each other is a complex and subtle thing. A child who has not yet experienced such feelings will not be able to understand them.
Be prepared for your child to come back to the topic over and over again. Do not be angry with him – after all, you most likely knew about the upcoming divorce in advance and managed to throw out your emotions, speak out, cry out grievances to loved ones.
For him, this story has just begun. He needs time to understand and accept what happened. Therefore, if he asks for the tenth time: "Why won't you live together?", Answer him the same as the nine previous times.
If your divorce is too painful and difficult for you to discuss, tell your child directly about it and ask someone close to talk to him. An adult who is not involved in the conflict will help the child more in this difficult moment.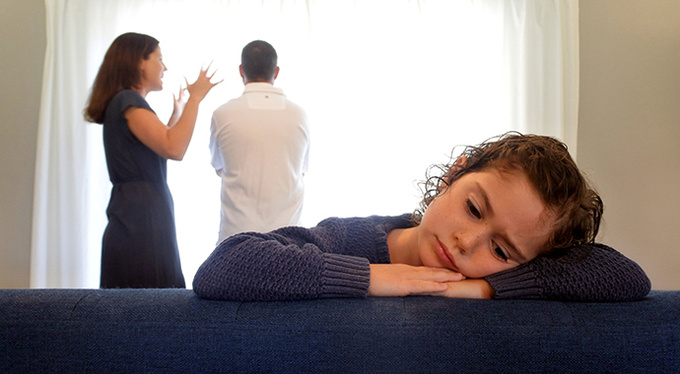 During a divorce: being close
But besides explanations, children at the time of divorce need the presence and attention of parents more than ever. The first is important for the child to understand what is happening and not blame himself, the second is to make him feel safe.
Calm him down every time he worries: "Where will I live?", "Who will our dog stay with?", "When will I see my dad?", "And if you have a new wife, I will be able to see mom? "
"Try to devote more time to him, play, walk, just be with him," continues Marina Khazanova. – Left alone with himself and his thoughts, he will experience anxiety and guilt. Talk to your child in great detail, because the unknown and uncertainty frighten him most of all. "
"Some children hesitate to ask what frightens them the most," adds psychotherapist Natalya Burlakova. – In this case, start the conversation first. Silence of a child does not mean that he has coped with the situation. "
Any conversation, even a difficult one, that raises his and you have an unhealed wound, is better than hushing up the topic. He relieves anxiety, makes it clear that there is still someone with whom you can share any feelings, talk about your fears.
After divorce: reorganizing life
The child needs to be given time to grieve about the life that he will never have again, and gradually start a new one. And here he needs the help of his parents.
"Never console your child that everything can be the same," adds Albina Loktionova. "This illusion will prevent him from saying goodbye to his old life and accepting a new one."
If for the sake of the child you will force yourself to celebrate with the whole family, after the divorce, New Year or birthday, this will not help him. On the contrary, these meetings will remind him of the past, and even if he is happy about it, it will be very difficult for him.
The new life should have its own rhythm. Instead of the old rituals – a family dinner or a Sunday movie trip – there will be other rituals: evening heart-to-heart talks or Saturday baking of pies and receiving guests.
"If you are sincerely ready to spend some time with your ex-spouse, it's great, if you're only ready to pass the child from hand to hand, it's also good," says Natalya Burlakova. "The main thing is for the child to feel: he still has parents who love him, take care of him and want to communicate with him."
It makes no sense to keep the marriage "for the sake of the child", but maintaining a relationship after a divorce is worth it
And this can only be proved by actions. A child who does not see his father or hears his parents constantly quarreling over money can think only one thing – that he does not mean anything to them. Or that he interferes with them.
And never, when meeting with a former partner, do not sort things out: conversations about money, time of arrival and departure and other everyday little things can be carried out on the phone in the absence of the child. These adult problems should not concern him.
There are situations when the situation during a divorce becomes so tense that the mother begins to forbid the father to visit the child, trying in every way to erase the ex-husband from her life.
In this case, it is worth stopping, taking a breath and thinking that the child does not feel the same feelings for her father that she does for her ex-husband, they have their own, completely separate relationship. And, if there is no point in preserving the marriage "for the sake of the child," then maintaining a relationship after a divorce is worth it despite everything.
The child does not have to live with dad and mom, he just has to have them. And no one has the right to deprive him of the opportunity to communicate with one of his parents.
"You are not guilty of anything!"
Children often feel guilty about their parents breaking up.
"In time, a divorce can follow some event, a misdemeanor, and the child thinks like this: first I did something bad (I didn't put the toys away, I brought a deuce), and then the parents divorced," explains Albina Loktionova. "In addition, children up to primary school age find it difficult to accept the idea that parents may be imperfect, children believe in their omnipotence. All this increases the feeling of guilt in the child, which sometimes makes him suffer for the rest of his life. "
While the child thinks that he is the culprit of the divorce, he unfoundedly hopes that it is in his power to return everything back. "That is why it is so important to make him understand that what happened has nothing to do with him," says Natalya Burlakova. – That mom and dad – both – made mistakes and regret it. Again and again tell him: "You are not guilty of anything. You are the greatest joy in our life. "
New partners: talk about it
How to tell your child that mom or dad wants to start life with another person? Gradually. To begin with, you can simply introduce them and give time to take a closer look and get used to each other.
At this stage, the phrase "This is Lena, my friend" will be enough. Marina Khazanova says: "If the new partner can meet the child's need for a sense of significance, support, understanding, respect and trust, everything can go smoothly. Children are flexible enough if these important needs are met. "
that the new partners of the parents will not take either father's or mother's place, but they will love him just like father and mother, and will take part in his upbringing;
that he is not obliged to love them, but must be polite to them;
and finally, that they, like his biological parents, are subject to the prohibition of incest. It is necessary to emphasize this, because so many children and adolescents are visited by the (unconscious) idea of ​​attracting, conquering, seducing a non-native family member, since he is not their real parent. For the child's psyche, such an idea itself is destructive and unacceptable.
This happens in life: people meet, fall in love, get married – and sometimes part. And it is important for us to remember: how exactly this happens and how a new life stage will then be built for us and our children, first of all depends on us.
About it
Sofia Nartova-Bochaver, Margarita Nesmeyanova, Nina Malyarova, Elena Mukhortova. "The Child in the Divorce Carousel." Bustard, 2001.
Helmut Figdor. Children of Divorced Parents: Between Trauma and Hope. Science, 1995.
Ioannina Amos. "My feelings. Divorce". MAK Media, 2000.