Dealing with loneliness and organizing dates can be done even under severe restrictions. Psychologist Ekaterina Fedorova offers several ideas on where and how to meet a potential partner without risk to health.
Online dating
The safest way to find a new friend during quarantine is through specialized sites. During the epidemic, all services like Tinder and Badoo have seen a significant increase in active users. Many well-known resources even canceled paid access to their sites before the end of the self-isolation regime.
The advantage of such platforms is that when registering, a man immediately indicates his physical data, interests and preferences. With their help, you can quickly determine whether it is suitable for communication or not. Cons – not all information in the questionnaire can be trusted.
For girls studying a foreign language, this is a great opportunity to combine business with pleasure. Getting to know a resident of another country will help you practice speaking, get to know his cultural and family traditions and values ​​better.
It is possible that online meetings during the epidemic will lead to serious relationships. And the knowledge gained will be useful to you already in the status of a bride. Be active, take the initiative when meeting, do not wait to be noticed and appreciated. And then your chances of finding an interesting and suitable partner will be much higher.
Don't limit yourself: the more friends you make, the more choices you will have! Before the end of the quarantine, you will still have time to figure out your likes and preferences. Do you want men on dating sites to remember you right away? Then put together a short, intriguing questionnaire.
The correct start of communication is the key to its continuation. "Hello how are you?" – this phrase will not delight your interlocutor. It is better to write about what interested you, for example, about the details of the person's biography, which were indicated in the questionnaire, or from his photo.
If your prospective partner has pictures from your travels and countries that you have also visited, then start your conversation with this: "Oh, you and I have similar interests! When was the last time you were in Bali? " And give up the banal compliments, on dating sites everyone has long been accustomed to them.
Discussing the consequences of the pandemic right after the greeting will nullify any impression you have already made. Focus on things that interest both of you: hobbies, places to stay, movie and music preferences.
And be careful: there are a lot of scammers and people with inappropriate behavior on the Internet, especially now. Therefore, the correspondence with a new acquaintance should be converted into video calls as soon as possible. This will give you a more complete picture of the other person and weed out those who are not suitable.
Hobbies are the best reason for dating
Similar interests, hobbies, and hobbies will help you strike up a conversation in a chat, interest a person, organize a first online date. In addition, they will become an excuse to continue contacts with a new acquaintance.
Think about your favorite activities that you would like to talk about, and visit sites and forums that discuss such topics. For example, the social network LiveLib is ideal for those who love to read. There are sure to find several people who are ready to keep in touch with you, among them there will be men.
You already know that activity and persistence in this case are only welcome. First, chatting, then an invitation to a video meeting, and further communication depends on your desire to continue.
Another option: write 10 films that left a lasting impression on you. Psychologists say that this list will tell a lot more about a person's character than he himself is willing to admit.
Visit movie fan sites or online movie theaters and here you will surely find a man who has a similar shortlist. Browse the general chat where opinions and recommendations are exchanged, find someone who has seen films you already know. Start a conversation, ask his opinion about the director's idea, the acting.
This moment will be the starting point for starting communication on the Web. As the relationship develops, the infatuation will help you bond even more.
Here are some popular chat and sharing platforms:
"Cinema text chat without registration" – here you can communicate in general and private conversation.
"Video chat RU" is a chat for Russian-speaking users from Russia and the CIS countries. There is even a service of random selection of an interlocutor, as well as video communication.
Discussions of films are also available in online cinemas such as Premier, TVzavr, Kinopoisk HD, ivi. For the duration of the quarantine, they completely removed or significantly reduced the cost of the subscription.
If you are a gambler by nature, then online gaming platforms will be the perfect place to first meet. Joint battles, the development of common strategies often become the basis for relationships. And the online game mode will allow you to understand how comfortable you are with this partner, even without leaving your own apartment.
You can try your luck on GameTree, a social network for gamers. SAMP or GTA Online are also suitable for communication. And in VR Chat, you can even improve your language skills – people from all over the world gather here.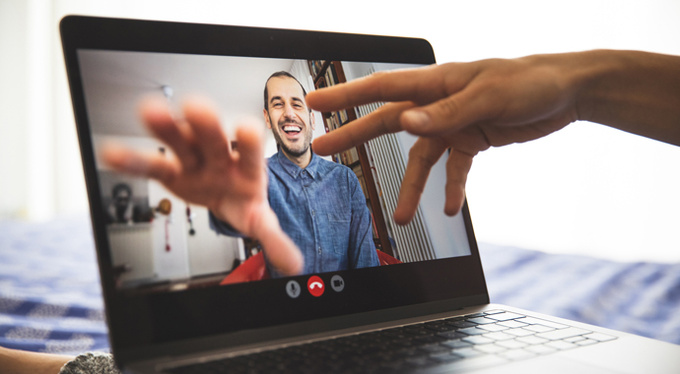 Romantic relationships at work
Many are forced to work during quarantine. Doctors, administrators, sellers, cashiers, couriers who deliver food – we go to our office every day.
And it is to us that men who are so lacking in communication in conditions of isolation turn to us for help. This is a good reason to meet and start a new relationship. Take this chance. It is possible that the future partner will start visiting the pharmacy or store just for another meeting with you.
The same rule works in the opposite direction. You may be a person in need of help, and a potential chosen one will come to your home as a courier or an invited specialist.
To establish an acquaintance, just a few words are enough, and you can consolidate it by calling again. This is the easiest way to check if you want to continue the conversation or if it's time to end it.
But do not forget about the main rule: we meet a guest in a mask and observe the necessary distance when talking. It is better to postpone the date with walks until restrictive measures are lifted.
Passionate dating in an epidemic
The self-isolation regime involves the refusal of personal contacts and meetings. What to do for girls with a violent temperament, for whom romantic relationships are not enough? For such passionate natures, there are also special online dating sites. Here you can meet partners of interest and negotiate passionate communication over the phone or via video chat.
There are also special paired dating apps that can be launched simultaneously with your partner from any gadget. They exclude personal contact, while allowing both participants to receive the full range of sensory experiences.
For many women, to build relationships, you need to be sure that the chosen one will support their sexual experiments. Therefore, such applications and sites help to solve this issue without a threat to health, not only during the quarantine period.
Recommendations for a pandemic
Prolonged stay in self-isolation can cause a tangible blow to the psychological state. Therefore, do not give up the opportunity to find new friends and acquaintances, especially if you suddenly feel lonely.
Meeting a man, even if it is just an online date, will cheer you up and give you positive emotions. This is a good way to take care of your mental health and possibly find a life partner.

about the author
Ekaterina Fedorova – psychologist, sexologist, author of online trainings and books for women.