New Year: a good moment for questions to yourself
It is customary to celebrate the New Year with family. But not everyone is happy with the prospect of this family celebration. Why? And what can we do to make a difference?
Each of us will have our own skeleton in the closet called "my most terrible New Year." For example, when relatives spoke insulting words to each other, minor injections turned into scandal, and someone just ran away from the holiday …
Personally, I well remember my mother's look in response to a question from a distant relative: "Well, what were you going to brag to us today?" It's not so important what one flared up and what the other hinted at: it was endlessly sorry for the vaporized spirit of the holiday, anticipation of gifts, pleasant lightness, jokes and joy of meeting with those who are truly dear … But this is exactly what you most want in a single – magical – night of the year.
Attempts to be the perfect family
"Part of the thing is precisely that on New Year's, our magical thinking intensifies," says psychotherapist Ekaterina Mikhailova. – We look forward to a special New Year's mood: "as you meet, you will spend", "whatever you wish, everything will come true." It seems that all this is not serious, but … Why do we believe that it is at this moment, December 31, that a family, where there is always difficulty in communicating or not saying anything, will gather at the table and suddenly become ideal? "We just really want to go to New for a year everything was perfect and everyone around loved each other.
By the end of the year, we are too tired of everything at once: summing up, big expenses, traffic jams, fuss
We involuntarily idealize our family, forgetting that it was there that we often had to experience pain, jealousy, a sense of injustice or an acute lack of love. We can't just take and delete these feelings from our lives, be distracted and tune in a festive mood. That is why very often a microscopic motive is enough for someone to "break the thread."
"Well, even today you could do without it!" – this reproach sounds more often than others during quarrels at the festive table, confirms Ekaterina Mikhailova. – We feel the exclusivity of this evening, we see a special meaning in it, although in fact it is just one of a series of winter evenings.
But there are plenty of circumstances that can aggravate the relationship. This is a commercial boom around the holiday, and overload. By the end of the year, we are too tired of everything at once: the financial year at work ends, the time comes for summing up results, big expenses, traffic jams, fuss, and it's hard for us to cope with all this. "
Fine, like in childhood?
There are other reasons: to experience sincere joy from the holiday, lost over the years, we almost consciously cause a regression in ourselves. We carry on endless conversations about how it was in childhood, enjoy the smell of tangerine peel or a live Christmas tree, take out old toys and hang them in the established (not by us) order …
"All this is very understandable, only we forget that the child we wake up in ourselves – or he wakes up without our knowledge – consists not only of the beautiful: imagination, fantasy, credulity, joy," warns Ekaterina Mikhailova. – Sometimes he is also greedy, envious, touchy, does not know the measure: one cannot do without the other. That is why the likelihood that adults, by any nonsense, will be offended and quarreled with each other, greatly increases. "
It happens that before the holidays, it is not joy that grows, but anxiety. Psychologists also notice this: on the days before the New Year and immediately after it, many turn to unscheduled consultations. "This is a difficult time, not without reason many of us are trying to leave, or rather, escape from an environment that obsessively requires calendar joy and at the same time loads with a lot of tasks," says Ekaterina Mikhailova.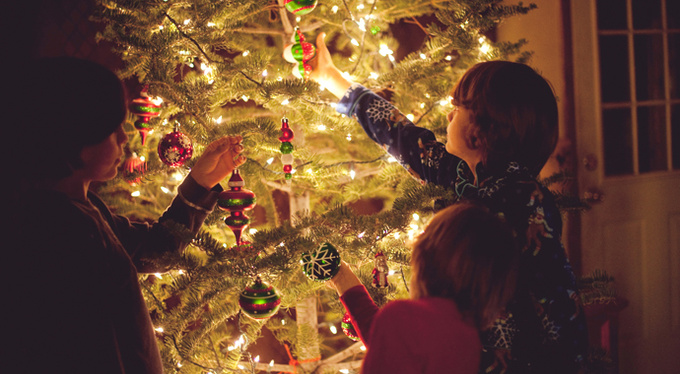 Learn more about loved ones and yourself
Sometimes there is a big difference between a blessed picture from a New Year's card and what is happening inside of us. It is difficult for us to abandon the ritual – perhaps we are even glad of the constant that still exists in our life. Predictability, on the other hand, is annoying. However, we cannot refuse to participate in a family feast, because we do not want to look like a "bad child" in the eyes of our parents.
"Dad died, brother got married, aunt will not be able to come – why should I go on a holiday and will it be a festive feast? – reflects 40-year-old Marina. "I know that everyone will become interested in my personal life, discuss my appearance, and at some point I can break loose … To do without it, I tried to run away, to the warmer climes, but my mother caught me literally by the neck:" How can you do this to us! "And I had to cancel the trip."
"Relatives react painfully to the refusal to join a family feast, because they understand deep down that a joint New Year's dinner is not so attractive as to keep young people at least until midnight," says Ekaterina Mikhailova. "Planning the New Year's holidays says a lot about whether the family knows how to protect each other, express their wishes and at the same time respect the freedom of the other."
Long before December 31, 18-year-old Maxim began to prepare his parents for leaving to celebrate New Year in another city. Parents were worried, but still found the strength to let him go, realizing that sooner or later Maxim would have to enter an independent life. After his departure, a box was found under the tree with an inscription that you can open it only at the moment when everyone is at the New Year's table. Of course, it contained gifts and cards for the whole family.
Let's try to find time in the New Year's bustle to ask ourselves: how are we doing with past disagreements, reproaches, jealousy
The holiday seems to bring us a mirror, and in it we see ourselves as we really are – as people and as family members.
"For the last five years I have been celebrating the New Year with my mother and her friend," says Ekaterina Mikhailova. "And not because they are old, lonely, and it was necessary to support them," they did well without me, "but in order to get a boost of optimism." It was fun and easy with them, and, in general, it's understandable why – all relations are clear, no one expects anything from anyone, and you could just be glad that we are still here and together. "
Let's try to find time in the New Year's bustle to ask ourselves: how are things going with past disagreements, reproaches, jealousy, rivalry? Did we manage to cope with them, or did we just cover up fragments of past conflicts under the family carpet? Are our expectations too high, are the grievances excessive, are we ready to meet our loved ones and, first of all, to change something in ourselves?
There are no standards and rules, generalized and universal solutions: each of us is unique and inimitable. Finding answers to these important questions helps to better understand what we are today, to feel the desire to move on and even take the first step. And it is possible that we will have the opportunity to take a new, freer and calmer look at our own family, with whom we will soon meet – or not – at the New Year's table.