A new project by the University of Sydney has added weight to the well-known expression "a dog is man's best friend." His results showed that people feel less lonely in the first three months after they got a dog.
PAWS project
PAWS is a long-term controlled study examining the relationship between having dogs as pets and mental well-being in society. His data was recently published on BMC Public Health. Over an eight-month period, 71 Sydney residents participated in the study.
The project compared the mental wellbeing scores of three groups of participants: those who had recently acquired a dog, those who intended to do so but held out during the eight-month study period, and those who did not intend to have a dog.
Main conclusions
Psychologists at the Charles Perkins University Center found that new dog owners reported reduced levels of loneliness within three months after they had a pet, with the positive effect lasting at least until the end of the study.
In addition, the participants in the first group also had fewer manifestations of bad mood, for example, decreased levels of sadness or fear. But scientists have not yet found evidence that having a dog directly affects stress levels and symptoms of anxiety and depression.
According to Lauren Powell, lead author of the project, 39% of Australian families have dogs. This little research sheds light on the potential benefits that a person's friends bring to their hosts.
"Several previous projects have proven that human-dog interaction brings certain benefits, for example, in nursing homes where dogs help treat patients. However, so far there are relatively few studies published in the world on the daily interaction of a person with a dog at home, says Powell. "While we cannot pinpoint exactly how the appearance and contact with a dog has a positive effect on our members, we have some guesses.
In particular, many of the new "dog lovers" from the first group reported that thanks to their daily walks, they met and established contacts with neighbors in the area. "
It is also known that short-term interactions between humans and dogs improve mood, so it is likely that with more frequent and regular communication, the positive effects add up to long-term improvements.
In any case, the research model itself minimized the likelihood of a feedback loop – that is, it was found that it is not an improvement in mood that leads to a decision to have a pet, but, on the contrary, it is the appearance of a four-legged friend that helps a person to find positive emotions.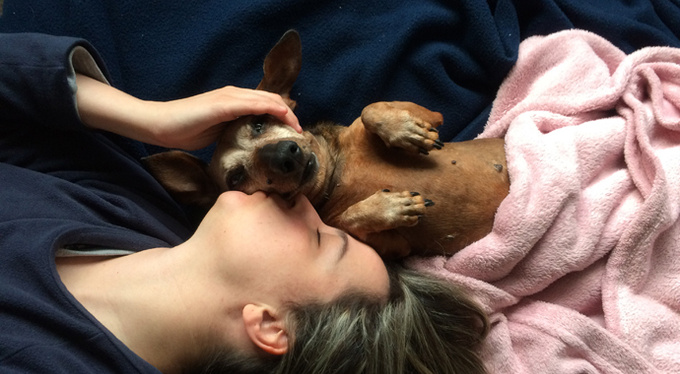 Why are these findings important?
Senior co-author of the project, Professor of the Faculty of Medicine and Healthcare Emmanuel Stamatakis focuses on the social factor. He believes that in today's hectic world, many have lost their sense of community and social isolation only intensifies over time.
"If having a dog helps you walk more around the area, meet other people and socialize with neighbors, it's a safe bet," he adds, "which is especially important in old age, when isolation and loneliness often increase. But this is one of the risk factors for cardiovascular disease, the main risk factor for cancer and depression. "
What are the next steps?
Psychologists acknowledge that more research is needed to understand the intricacies of the relationship between a person's dog and their mental health.
"This area is new and developing. Finding a way to assess the relationship and take it into account is only half the problem, especially when you consider that each person's relationship with a dog can be different, "they comment.
The group is also currently studying the effect of having dogs on owners' physical activity patterns in parallel. The Charles Perkins Research Group on Dog Ownership and Human Health brings together experts in public health, physical activity and exercise, disease prevention, behavior change, health psychology, human-animal interactions, and canine health. One of the goals is to determine how the benefits of communication with a dog can be practically applied in the field of health care.