PSYCHOLOGIES No. 20
5 reasons to laugh at work
Office workers are usually serious – out of a desire to look significantly in front of a client or out of fear of dropping themselves in the eyes of the boss. But a sense of humor can be helpful! We found five reasons to laugh at work.
Career and self-realization
Antistress
Once at a European airport I went through passport control. A border guard officer studied my document for a long time, sometimes glancing at me. Something is wrong with the visa, I was already worried. Finally she put a stamp, handed me a passport and smiled: "But with a haircut, you still better." I laughed, and as they say, this unexpected joke "made my day."
The stereotype of business relations entrenched in modern culture implies a serious, if not commanding tone. "In the collective unconscious, the figure of the commander inspires much more respect than the figure of a jester with bells," says psychologist Patrick Amar. Not surprisingly, at work, many of us prefer silence to witty remarks.
But if we keep suppressing this healthy emotion in ourselves all the time, then we will soon turn into a bore or, what good, neurotic. Laughter is the most powerful discharge of the most critical tension. People were and are afraid of catastrophes, death, bosses, "world evil", historical cataclysms. And that's not counting individual phobias!
Yes, in our life there are dangers and losses. But laughter frees one from fear, makes one more confident. At the same time, laughing does not mean being frivolous or a loafer.
According to the philosopher and researcher of laughter culture Mikhail Bakhtin, "you can't be idle – but laughter is not an idle occupation at all." Bakhtin opposed the right to laugh and parody any reality not with labor and heroism, but with "hypocrites, enemies of the" merry free truth ".
So if the boss does not understand the jokes at all, and you can't take this irony, do not deny yourself laughter, but practice this only in the company of your closest colleagues and without prejudice to their vanity. And if a boss with a sense of humor – why not support this wave! Unless, of course, we are not talking about making fun of colleagues and others in general.
The irony is good, if it is the fruit of self-irony, then it "melts the ice" without threatening anyone.
1. Create a welcoming atmosphere
Laughter should be evidence of openness. We work and learn better when we don't experience stress. To do this, it is important to understand the boundaries of irony and jokes.
Foreign language teacher at the Higher School of Economics and school teacher Maria Filippenko is convinced that jokes are permissible only within the educational process. No jokes about politics, religion, sexual orientation, nationalities. After all, in the group are people with the most diverse views.
"When students start joking back, it's an indication of good contact and, in a good way, relaxation in the group," says Maria. – To learn the language, it is important to eliminate stress, create a friendly atmosphere. It may not seem ridiculous to everyone that the teacher conceived it as fun. So, perhaps, the ability to joke spontaneously and with a smile to respond to "short circuits" is important here. Laughter is a great way to prevent or resolve a conflict. This is the best reaction to a mistake – both a student and his own. "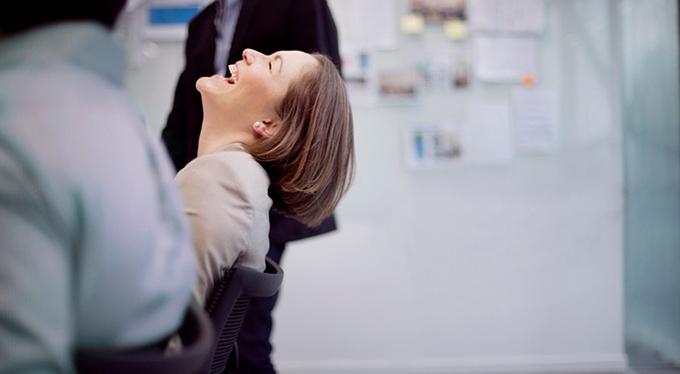 2. Do not "burn out" at work
"I would include a sense of humor as mandatory in the" professionalism "section," continues Maria Filippenko, "along with the ability to find contact, to feel the atmosphere in the audience."
She is sure that the quick "burnout" of teachers is due to the fact that they have to instantly make decisions during the lesson: how to answer, how to evaluate, notice or not someone's blunder. All this is stress. "And if we choose the second from a serious or ironic attitude to the problem, then it certainly saves us" as a combat unit. "
3. Get your message across
Humor can transform a career. Didier Bush, director of one of L'Oréal's business divisions, owes much to his success.
"I could not count on external impressiveness to impress," says this boss, whose height is less than 160 centimeters, "so I learned to use humor for greater clarity …"
When arguments are followed by a joke, they become irrefutable. But humor is not synonymous with gentleness: it allows you to "speak more freely and learn, if necessary, say no. This is necessary, "adds Didier Bush.
4. Fight isolation
Kristina Bystrykh, Executive Director of the Sberbank Investor Relations Center, thanks to laughter, fell in love with her business again.
"Our team was engaged in a very serious international project. We successfully introduced him to England, but the management did not express enthusiasm and instead appointed a new boss.
We all went down, became closed, I generally decided to change the profession. But the new boss turned out to be a man with a sense of humor, which allowed him to look at everything from the outside, evaluate our strengths and weaknesses and at the same time not only not offend anyone, but give confidence to everyone.
I remember that we waited with awe for a decision regarding the reorganization of the team. The boss had to talk about this with the management. Here he comes back from the meeting. "Well, what did the chief say?" We asked. "He said that I was too well-fed, it's time for me to eat a diet," the chief replied. We laughed, and then, as if by magic, everything began to improve – we rallied, new ideas appeared, and the contradictions were resolved. "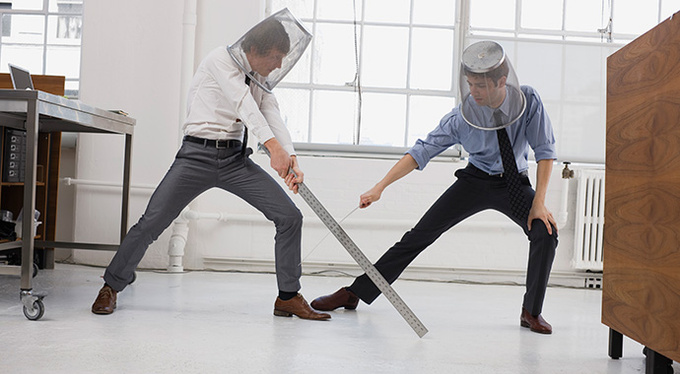 5. Resist force majeure
Fresh ideas come not during stress, but when you manage to relax. This was understood long ago by Inna Davydova, director of the Herman Brown Foundation Latvian music agency.
The agency has a small close-knit team – therefore, laughter is always common. It's hard for one to have fun. Laughter is either shared or does not sound at all. The general laugh for Inna is a sign that everyone has an emotional reserve that is necessary in their work.
In addition, humor is a kind of code. Using it, you can accurately determine in which key to speak with partners, clients – people who are complex, creative, and sometimes spoiled. "The ability to laugh keeps us in balance with different overlays, inconsistencies, and force majeure. For example, a famous musician mixed up a flight – and if you don't have a sense of humor, you can fill up a concert for which tickets have already been sold. And if you recall a good joke on this subject, there will be a solution. "
Joke but don't discount
Maria Makarushkina, psychologist, consultant, coach, reflects on the place of laughter in the workspace.
"Modern world trends in the organization of labor are associated with the so-called agile (agile, English -" lively "," moving "). This style implies flexibility, adaptability, self-regulation. The goal is the informal abolition of any hierarchy: all teams in a company are equal, all members within a team are all the more so.
Laughter promotes the transition of employees into partnerships from office, built on dependence. The structure is leveled, turning from vertical to horizontal. Both the ironic leader and the witty performer perfectly fit into it. But there is also corporate ethics. In creative companies, the proportion of laughter is usually greater. And intense production is more likely to ignore humor.
But the ability to joke is an individual feature, its level depends on the level of personal culture. You can say as much as you want a sense of humor when working with clients, but if I, as a client, sit in front of a provider, a doctor, a salesman who spills flat jokes, it will not cause me anything but rejection. On the contrary, a person who is educated or simply educated, resorting to an appropriate joke, will cause undoubted affection and trust. "