Once we all knew how to play. And with the help of games they mastered the world in which they found themselves. We loved to move, dance, taste words and notes. And then we grew up and replaced it all with adults, serious occupations.
We stopped paying attention to the "tools" that once helped us to live in this reality. They ceased to feel their magical power. But the ability to sing, speak and gesture, the ability to play, is a powerful resource. And you can turn to this inner treasury at any time to change your life and better understand those who are around.
Speak to free yourself
From the first seconds of a telephone conversation, we understand how the interlocutor feels, whether he is happy or sad, worried or serene, ready to talk or busy.
"The voice is able to tell what is happening inside us. Having learned to own it, we can change our state and influence our personality. For example, if you are stressed, try speaking more slowly, feeling the connection between sound and breath, and build short phrases that are easier to control. This will help you calm down, "explains Valery Ustinova, a stage speech teacher.
We can quickly change the way we dress or hairstyle, but it takes time to fully master the possibilities of voice and speech.
"Before the revolution, educational institutions did not teach a subject called" literature, "instead it was literature," says the teacher. "It meant a comprehensive mastery of the word: the skill of correct breathing, the basics of diction, the subtleties of articulation and intonation, the ability to cope with the excitement in front of the audience."
We've been improving our ability to speak over the years. If it was not customary in the family to discuss events and feelings, as adults, we are forced to learn this on our own. And this requires a space where we have the opportunity to be heard without fear of becoming an object of ridicule, misunderstanding or indifference. For some, a psychologist's office becomes such a place. And someone may relieve tension by chanting chants in the stadium or spending the night at a karaoke club.
The voice also becomes for us a means of communication with loved ones. "If in a family grandparents, mom and dad can sing together with the children, for example," Moscow Nights ", an almost mystical moment of unity occurs," notes Valeria Ustinova.
Dance to learn everything
When we live in harmony with our own body, we feel inner freedom and translate it outside. And dance gives the opportunity to speak with a partner without words, opening up to each other from a new side. Why don't we use it all the time?
"We often forbid ourselves to move. In the first lessons, many of my students can only move their feet and hands. But everything changes over time, "says dance teacher Ekaterina Shilova. Body clamps are a consequence of attitudes to which we have managed to get used to in our lives. "Don't turn around!", "Don't turn around!", "Sit still!" – Probably everyone has heard variations of these requirements.
"And too often we look around, comparing ourselves to others, trying to understand whether we are better or worse. And we must respect our own hundred percent, which we have now. For many, this becomes a discovery, "says Ekaterina Shilova.
Dancing is not only a way to make friends with the body, but also a relationship therapy session.
"When we stage a dance for the newlyweds, you can learn a lot from the movements of the couple," the dance teacher continues. – Many men are afraid that their partners will not understand them. And the girls worry that their partner will not be able to perform this or that movement, rush him or try to do everything on their own, not giving the man time to collect his thoughts.
But after a couple of months of classes, the couples leave the hall transformed. Interaction in dance greatly increases the chances of maintaining love for a long time.
Movement helps you understand and experience your feelings.
"Experiencing, say, being lost, I can dance my state and thus change it," Ekaterina Shilova shares her experience. But can everyone dance? Yes! It doesn't matter what kind of body we got, as long as it is cozy and comfortable in it.
"Imagine that you are Martians who were given a" spacesuit "for life on Earth. I would like to know how all the parts of this new mechanism work. The easiest way to understand how your body is moving is to pay attention to it. Touch yourself, pinch, pat your hands, feet and other parts of it, "says the dance teacher.
The main component of dance and any other movement is sincerity.
"The best dance is selfless, honest, open and easy. It doesn't matter what our height, weight, volume. If we express ourselves through movements that have confidence and balance, it is always beautiful, "smiles Ekaterina Shilova. "And for others, our dance will be a source of light, energy and joy."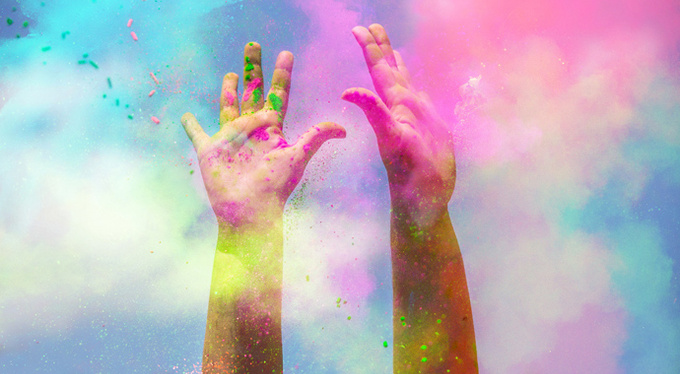 Tell a story to hear yourself and others
Playback theater is about improvisation: the audience talks about the events of their lives, and the actors immediately embody them on stage.
"This kind of theatrical action grows out of the need to share what happened to us," explains Olga Sanachina, co-founder and actress of the Novy Jazz playback theater. – People come here to tell or hear a story and see it on stage from a new angle. The actors who embody the audience's stories on stage show details that, perhaps, we ourselves did not notice before. "
After the first story, the audience wants to share another story, and then another and another.
"Once we started with the story of a woman whose little child acted horribly all day and she spanked him," says Olga Sanachina. – At that time there was another child in the hall. And when the show ended, he talked about how once he could not solve a difficult problem and his mother yelled at him. He was scared and wanted to hide.
The first storyteller changed her face. She heard the other side. For her, the story expanded, deepened and acquired new meanings, which until then had escaped her attention. "
Watching from the safe darkness of the auditorium as the story unfolds with our participation on the stage, we understand that we can influence the scenario of our own life to a greater extent than it seemed.
"Somewhere in the depths, we are all remarkably similar. But the beauty of the world lies in its diversity. Everyone perceives the same situation in their own way. The game brings the realization that not everyone has the same vision of events. For many, this becomes a revelation, "says Olga Sanachina.
She also conducts master classes in which participants can not only share stories, but also take a place on the stage, mastering the initial skills of a playback theater actor. This experience can come in handy far beyond the stage.
"By mastering the art of improvisation, we begin to orient ourselves faster in situations, listen more attentively to those who are nearby, and grasp the essence of their stories, more accurately respond to what is happening around us," Olga Sanachina is convinced.