1. Ask for advice
One of the best ways to start a conversation with a neighbor or neighbor is to ask for advice. "The point is not to get advice (although it may actually be useful), but to make communication more meaningful," says Joanna Goddard, the author of the Cup of Joe blog. "As a result, you will learn something new about each other, and the conversation almost always takes an interesting direction."
2. Ask questions that involve detailed answers.
"Avoid questions with monosyllabic yes and no answers, followed by deathly silence," says business coach, educator and blogger Nancy Enkowitz. Instead, ask an open-ended question. It begins with the words "who, what, when, where, why." You can talk to the most shy guest by asking your favorite question from diplomat and politician Henry Kissinger – "What do you think about this?"
Some more simple questions that always work if the conversation is quiet:
Where would you like to go on vacation? Even if the interlocutor does not plan to relax in the near future, perhaps he will tell about the past holidays, his dream journey or the places where he grew up.
Which movie do you recommend watching?
What celebrity do you say you look like?
Do you have a favorite cafe or restaurant in the city? What places do you like to visit?
What has impressed you lately?
3. Start the conversation first
"When you see a funny car on the street, you say:" This car looks like a giant M&M ball, right? " The interlocutor laughs, but you took the first step, "cites an example in the book" Career for Introverts "by Nancy Enkowitz. – With two or three harmless phrases you seem to say: you and I live on the same planet, so it's not at all difficult for us to find common topics for conversation. Practice taking the first step in everyday communication, such as in a taxi or hairdresser. And don't be afraid to communicate with people in authority, for example, doctors, dentists. "
Another way to start a conversation is to praise some item of clothing of the interlocutor, but only if you really liked him. "Don't pretend, it's always noticeable," warns Nancy Enkowitz.
4. Attract attention to yourself
If you had a bad day, but still have to talk in the evening, try to attract people to yourself without taking the first step. For example, using your appearance. "Put on something that can be a good topic to start a conversation – a bright pendant or brooch. Something that evokes positive emotions and attracts attention. Men can wear a tie with an interesting pattern or unusual cufflinks, "advises Nancy Enkowitz.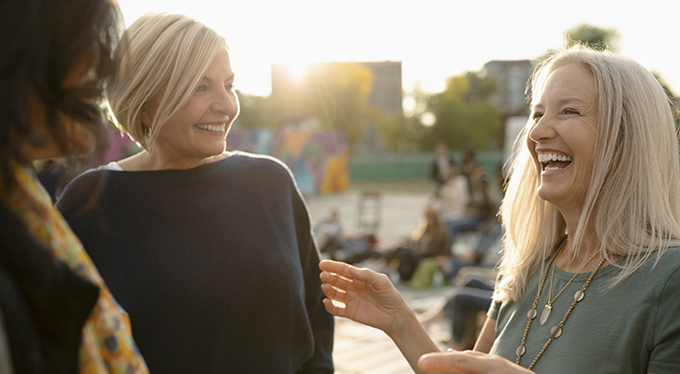 5. Why?
The secret to a successful conversation is the ability to ask questions. "Everything around me arouses curiosity, and even at cocktails I often ask my favorite question: why? – TV and radio host Larry King shares his experience in the book "How to Talk with Anyone, Anytime, Anywhere." – Let's say the interlocutor says that he is moving with his family to another city. Why? Or goes to another job. Why? Someone is a fan of the Mets team. Why?" By asking this question, you get the surest way to maintain a lively and interesting conversation.
6. Listen carefully
If you really try to listen to what you are told, you will find that it is much easier to do this when you look into the other person's eyes. "But you don't have to stare at him all the time," warns Larry King. "Many people — perhaps you too — feel embarrassed about this." Keep eye contact, but it's better to look away from time to time. "
7. What if?
A reliable way to start a conversation or resume it after a lull is to use questions that begin with the words "What if …". They will interest all guests regardless of age, level of education and social status. Here are three examples that Larry King provides.
What if you build a house that you have been dreaming of all your life, and immediately after that you will find out that this area is earthquake-prone. Will you move or not?
What if your best friend dies of cancer. A few days before his death, he says: "On my bank account – one hundred thousand dollars. When I am gone, try to have my son receive a medical education in them. " Then he dies. However, his son is a worthless prankster who is not going to study as a doctor at all and will let these hundred thousand go down the drain in a couple of months. Meanwhile, your son is just going to college and dreams of becoming a doctor. Which of them will you give money for a medical education?
The main advice from the communication masters: do not be nervous because of the feeling of awkwardness
"I have asked such questions to a lot of people – from the Rector of Yale University to the twenty-two-year-old rookie from the St. Louis Cardinals, recalls Larry King. – Everyone has their own opinion, for the most part they differ from each other and all are justified. Sometimes this topic alone is enough for the whole evening. "
What if you could become invisible? Will you consider yourself obligated to abide by generally accepted moral standards? Most of the respondents, according to the TV presenter, answer "yes, of course," but someone said that he would use his invisibility to quietly attend business negotiations. After he planned to make investments that would allow him to break a big jackpot in the stock market.
8. Open the door to conversation
The main advice from the communication masters: do not be nervous because of the feeling of awkwardness. When two strangers begin a conversation, in the first few moments both are almost guaranteed to feel uncomfortable. Take it for granted. Just introduce yourself and "go through" these first two or three seconds, as if you were opening the door to the conversation. As soon as you begin to exchange news and opinions, no one will remember how the conversation began. With this in mind, it's easy to approach anyone and just start talking.
Some more tips:
1. At a party or reception, remind yourself: not all those present are looking at you, so do not be nervous.
2. Do not forget to breathe correctly. After taking a few deep breaths, you will relax and calm down.
3. Drink water. Replenishing the body's water supply, you will improve your well-being. In addition, your voice will sound much more confident and more pleasant to hear.
4. If the person with whom you were near decided for himself that he would be silent, he would not be persuaded. Do not take it too close to your heart, just find another person to talk to.
5. If you stumbled upon a terrible bore or simply decided that it was time to end the protracted conversation, there is a reliable way to end the conversation: "I'm sorry, I need to leave." If you manage to give credibility to your voice, no one will be offended. Having returned, you can start a new conversation, but this time with someone else.