According to one of the surveys conducted in Russia *, 39% of fellow citizens commit physical violence in the family. It is hardly surprising that men predominate among them. Many believe that this problem should not be solved at the state level or even brought up for public discussion. The justification "she brought it up" is also quite widespread, and not only in Russia.
The problem of domestic violence is worldwide, and the European and American media regularly trumpet about it. Psychologists from the United States note the need to work with victims – according to some reports, 25% of women found themselves in the position of a victim.
"We met in a common company, he was charming – he played the guitar, sang, said compliments, walked home, and messages with all sorts of" mimimi "poured in right there. At this he was a master. We got along very quickly, the love was just insane – I was eager for him and eventually left my parents with a scandal – they were against us so quickly living together.
I was 18 years old, he was 25. Apart from school hobbies, this was my first love. No, not so – Love with a capital letter. But very quickly it became clear that he could not stand being opposed. I was given responsibilities – not only around the house, but also in sex and communication.
The first time he scared me was when he yelled in the morning that I was not lying like that and he was uncomfortable. Then he cooled down and even apologized. However, the scream became more and more, with or without reason. Sometimes I didn't know what the reaction would be to a completely simple thing.
For example, he wanted guests to come to us and I made sushi. I replied that I could not, and offered to order (at my expense). He gave me a hysteria, practically convincing me that I was worthless as a woman and a hostess. When visiting, he was nice to me – it even seemed to me that I just went crazy and there was no such quarrel at all. But she was. And others too.
I guess I'm used to the fact that it can explode. I didn't immediately notice that I live in constant fear. When at some point he hit me in the face with his fist, I began to collect things. He took the phone away and did not let his parents call, locked it in the apartment and left with the key. Then he returned and, sobbing, began to shout to me that I betray him, that I did not really love him and never loved him, and so on. I should have felt guilty.
After a day of clarifying the relationship, I was in such an exhausted state that I made up. But she did not forgive. It just … like it didn't matter if only he stopped. I left a month later, after he grabbed a knife in a quarrel. It was as if I was overridden. I thought he might kill me. And that it would be so … stupid, or something. Die like that. And something arose in me, some kind of protest.
I tried to make up with him for show and waited for him to leave. I left my things in my bag and quietly ran home. I never told my parents about everything – they think we just had a falling out and broke up. I am ashamed to say – after all, I myself got into such a dirty trick. "
A loving relationship based on trust and safety has become a battleground for those affected
Irina's story (name changed at the request of the girl) is not unique. Unfortunately, breaking up with the rapist doesn't mean it's over. The problem is that these situations tend to be severely traumatic and the consequences last for many years, if not a lifetime.
A loving relationship, which should be based on trust, good feelings and safety, for the victims turned into a battlefield where strength is on the side of the enemy, and psychological and sometimes physical wounds remind of themselves for a long time. Difficult memories, nightmares, emotional outbursts, panic attacks – the past experience translates into symptoms of PTSD (post-traumatic stress disorder).
Irina's subsequent relationship did not work out – even when she deliberately chose safe men, she experienced fear every time she needed to refuse or disagree with them. Individual words or situations became triggers and caused panic or aggressive reactions in her, to the surprise of new partners.
The fact is that in most such cases the adaptive mechanism of the psyche is avoidance. The brain tries to minimize the distress and stress associated with traumatic events and gives the command to "run," metaphorically or literally. In the behavior of the former victim, this can manifest itself as withdrawal into oneself up to external "insensibility" when there is a hint of conflict or another variant of distance.
In some cases, a person turns out to be incapable of trust and intimacy and runs away from the relationship, even if there is no violence or abuse in them in reality. For this reason, avoidance interferes with adaptation – it increases a person's social isolation. It is also not conducive to healing from trauma, since it is by entering into a safe and trusting relationship that one can "recover" from the effects of domestic violence.
In the process of trauma therapy, they can line up with a psychotherapist, and quite often, as a result of long work, the victim is freed from the past, acquires the ability to build new relationships. And difficult experience no longer interferes, but helps to be careful and not choose potentially dangerous partners.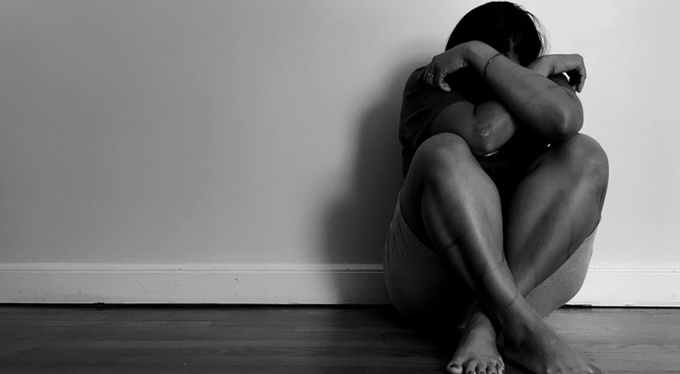 Domestic abuse remains stigmatized on both sides of the ocean. Victims are often hesitant to go anywhere. Like Irina, they feel ashamed when they voluntarily share responsibility for the situation with the abuser.
Some are brought up with the idea that this is normal. Often the environment is such that there is nowhere to run for help or to no one. Sometimes people simply have no idea where to go in principle. As already mentioned, in response to revelation, they may hear something in the spirit of "she brought it up," "don't wash dirty linen in public," "we endured, and you will endure," and so on.
"The topic is complex and requires development," says gestalt therapist Anastasia Gurneva. – There should be legislation that would guarantee punishment for violence, especially in the family.
People's consciousness is gradually changing, many stories are brought up for discussion by the media and are no longer perceived as the norm. An encouraging change can come into play when a person decides to step out of a violent relationship and make their story public. Sometimes this has a personal meaning – to stop hushing up, to stop the violence, to return responsibility for what happened to the aggressor. Indeed, in order to make a statement, you need a lot of courage and readiness to meet with condemnation – "beats, it means he loves," "she is to blame" and other shame.
It's good that now there are organizations that are ready to help – for example, the Violence.net Foundation can provide free legal advice, provide free psychological assistance, and support by participating in support groups. Programs of psychological work with the abusers themselves are developing, but so far in few places.
It is important to look for new reasons for self-esteem, self-confidence – on the psychological level, housing and work – on the material
As for psychological assistance to victims, it will be different at different stages. If the woman is still in a toxic relationship, it is important to help her realize that she is in a "cycle of violence". Show how and why these cycles are repeated.
For example, in Irina's story, the reconciliation phase is associated with exhaustion after the conflict and the abuser's promises that this will not happen again. Then comes the phase of rapprochement, which turns into a "honeymoon", then the tension grows again – and everything repeats.
It is important for the victim to understand at what stage of the cycle she is now. This understanding will help you see the relationship from the outside, detect a clear repetition of situations and think about the choice: is it really worth it?
If the relationship has recently ended, full support is important. It often turns out that during the relationship, ties were severed with friends, relatives and other people who could help in word and deed. The victim often loses the sense of his autonomy, it can be difficult for her to find the strength to learn to live anew, outside the relationship – not for the sake of another, but for herself.
It is important to look for new reasons for self-respect, self-confidence – on the psychological level, housing and work – on the material level. If the old relationship has been cut short for a long time, but still "glows" with fears, not allowing to build happy new ones, then you can work with a psychologist. Explore what security is, how to recognize it in a relationship, whether it is possible to relax if there is no absolute trust. And he, obviously, does not exist one hundred percent in any relationship of two adults.
Also, an important direction in working with a specialist is how to let go of memories associated with past relationships, forgive yourself, and appropriate power. Indeed, in fact, the woman was saved long ago and is no longer there, so why are vigilance, distrust, what function do they perform in the current relationship? How do they prevent intimacy relationships from arising?
It is extremely important to understand what experience was gained in those relationships. What is the difference between the victim's world now, is there enough support, self-confidence, closeness with other people? What does she want from the present, what kind of relationship? Do they exist now, can you afford to settle in them like at home, without looking back at your partner all the time in anticipation of a repetition of the traumatic story? "
If you have been a victim of domestic violence, you can seek support by calling the following numbers:
The single helpline of the Ministry of Emergency Situations +7 (495) 400-99-99;
Moscow psychological assistance service +7 (499) 173-09-09.
Center for work with the problem of violence "Violence.net": 8 (495) 916-30-00;
Sisters, an independent charity center for survivors of sexual assault: 8 (499) 901-02-01;
The first All-Russian free helpline for women survivors of domestic violence: 8 (800) 700-06-00.
* The poll of 1,792 people was conducted by telephone by the agency Mikhailov & Partners. Analytics "in March 2019. Two-thirds of the respondents believe that women provoke rapists themselves, 31% – that a solution is needed at the state level, 29% – for public discussion, 40% called domestic violence one of the most important social problems.

About the expert
Anastasia Gurneva – Gestalt therapist. Read more at her website…