"Any real business requires self-forgetfulness, but working with children is impossible without this state," the writer Simon Soloveichik stated in The Last Book. The teacher must leave everything that worries him at the doorstep of the classroom, and enter the children "with an exalted soul."
Plan, magazine, parents, educational standards, USE, methodological advice, director, inspector, conversations in the teacher's room … The teacher is always in public, and many expectations are addressed to him: first of all, from the school (he must be creative and at the same time follow the approved program), then the expectations of the parents (he must have authority among the students and at the same time be tolerant) and, finally, the expectations of the students themselves (he must earn authority, but at the same time love and understand them). Not to mention the impossible but implied task of getting all students to do well. Should, should, should … The burden of such responsibility cannot but crush.
"I have no right to make a mistake" – these words are often heard from those who work at the school. "I think the teacher's psychological difficulties begin at the moment when he decides not to lose his face in the mud," says psychologist Natalya Evsikova. "And most often it" breaks down "when his competence is inevitably called into question, which means his self-image."
While teaching, the teacher inevitably recalls his own childhood, which means that there is a risk that his unconscious conflicts will appear.
And this happens with the majority of teachers, since it is very common for representatives of this profession to identify themselves with their work. At the cost of psychological and somatic health, the teacher is also responsible for non-working concepts, imperfection of management in education, for the shortcomings of university training.
"He's like a soldier without a rear," adds psychotherapist Svetlana Kryvtsova, "face to face with a new generation of students, with adolescent drug addiction, the confusion of many parents, child aggression, fear of life. And with your own fear. "
Perhaps that is why, as our experts say, teachers are the most inquisitive, grateful listeners and active participants in psychological seminars and trainings.
Mirror relationship
The teacher-student relationship has a special feature: it is "mirrored". When teaching children, the teacher inevitably recalls his own childhood, which means that there is a risk that his long-standing unconscious conflicts will manifest in these relationships. At school, he involuntarily realizes his own desires, ideas, fantasies.
"We teach with what we ourselves are, and we convey very little with what we know," says psychoanalyst Annie Cordier. For their part, children unconsciously perceive teachers as their parents.
"But those do not take into account this phenomenon of transference, – continues the psychoanalyst, – they simply do not know about it and take at their own expense, for example, signs of aggression that are not intended for them."
Of course, pedagogical recipes and "magic" methodological techniques are not enough here. Teachers have the opportunity to receive additional psychological education at universities and training institutes for educators. This is undoubtedly important, but even this is not enough: in his daily work, the teacher is left alone with everything that worries him.
The teacher needs the support of people with whom you can analyze both your own experience and your anxieties
"For many years it was natural for me that most of my mental strength went to the students: I spent a lot of time with them, delved into all the problems, tried to solve them and got great pleasure," says Tamara Eidelman, history teacher. – After the last call, I began to prepare for the autumn lessons, and so the summer passed. Now this is not, something has broken. At the same time, I know that as a teacher I can do much more today than in the mid-90s. In general, skill comes, but drive is lost. Fatigue remains. "
"For the first ten years, any normal teacher is in a state of euphoria and enthusiasm," says Anatoly Bershtein, a history teacher, in his book Stay After Lessons. – He takes it boldly, tries without fear, actively experiments, comprehends assertively … Doubts and fatigue accumulate imperceptibly, reinforcing each other.
There is a painful exactingness to children, then to oneself. Reactions to failure become sharper and longer. And the "victories" no longer seem so convincing … You return to the questions that seemed to have been resolved long ago and forever: why did you come to the children, what did you want from them, what do you want from yourself? Further – more: do you do what is required, can you do what is needed at all, and by the way – and what is actually needed? "
Need support!
The solidarity of colleagues is often the teacher's only lifeline. "The teachers' room is a kind of confessional," says biologist Oleg Arutyunov. – We come here to take a breath, to speak out, to share joy. Here you understand that you are not the only one who has problems, that they are largely caused by the education system itself … This is already a little reassuring. "
But not everyone is ready to communicate openly. It's one thing to complain about children and even about the disorder in life, and quite another to admit that you need support. Young teachers are especially secretive, which is confirmed by Tatyana Belova: "I have been teaching biology for the second year, and for the second year I often want to cry, I break down, and I get scared. But I do my best to restrain emotions, because they are a sign of incompetence! "
"The fear of admitting one's weakness or inadequacy is largely provoked by open lessons that novice teachers are obliged to teach," comments Natalia Evsikova. "Teachers are constantly monitored and very rarely supported: in many teams, it is not cooperation that dominates, but rivalry."
All Psychologies experts say the same thing: the state must find ways to support teachers. "There must be a psychologist at school," explains Svetlana Krivtsova. – But according to his status, he should be the deputy director for personnel. Then he will be able, working with teachers, to more effectively contribute to the psychological well-being of students as well, in particular by attracting psychologists of various specializations. "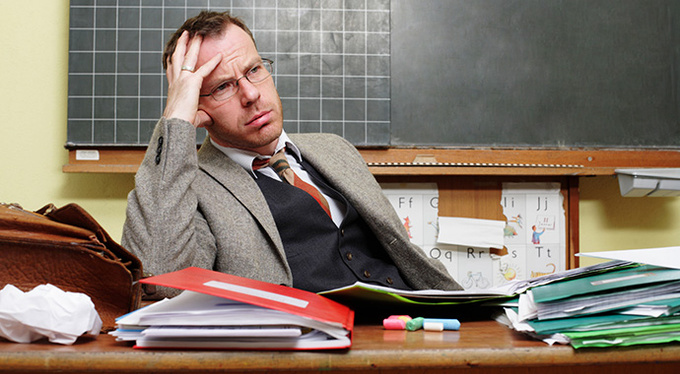 The fruits of the illusion
Anxiety, irritability, overwhelming excitement, a sense of the meaninglessness of their work, an experience of feelings of guilt – all this seems to inevitably accompany the work of a teacher. "A teacher doesn't make a career," wrote Simon Soloveichik in his book Eternal Joy. – He comes to school as a teacher, and they bury him in the same rank, except perhaps adding the word "pensioner". He is an artist, but his listeners and viewers do not applaud him. He is a sculptor, but no one sees his work. He is a doctor, but his patients rarely thank him for the treatment and do not always want to be treated … Where can he get strength for everyday inspiration? "
It is no coincidence that after 5-10 years of work, many teachers begin to "burn out emotionally". Their unjustified expectations are manifested in ironic and even mocking statements about their work, in chronic fatigue, loss of interest in business, children, and colleagues.
"Those for whom work is connected with a purpose, mission, and those who try to comply with the principles:" I cannot be wrong "burn out more strongly; "I have to be discreet"; "I have no right to be biased"; "I have to be an example in everything," says Svetlana Krivtsova. – Such a teacher seems to stand on the pedestal of his exclusivity and infallibility. He ignores his emotions and cannot understand the feelings of the students, which naturally causes the children to be hostile. "
In recent years, the social status of the teaching profession has changed. "We are no longer talking about a vocation – only a craft, but a heavy craft, which is paid inadequately," Natalia Evsikova analyzes. "Instead of trying to restore the prestige of teaching, society only regrets."
But teachers also need to find the courage to leave this space of complaints, begin to rethink their role and, above all, abandon a kind of pedagogical illusion – the notorious neutrality of teaching, the ability to control teacher-student relations.
It's time for us to admit: this craft is the most subjective in comparison with others and more than others it deals with the personal sphere of a person. Therefore, it is useful for future teachers or those who doubt their chosen profession to talk to a psychologist in order to figure out whether pedagogy is really their business.
"An interview to identify motivation would allow us to ask ourselves questions about their choice and help avoid 'neurotic career choices,'" says Annie Cordier. If there are no such doubts, "the teacher will still need the support of people with whom he could analyze his experience, his worries," sums up Natalia Evsikova. In this case, the psychologist will help him understand that the fatigue, emptiness, bitterness that he feels is not a dead end or failure, this is the natural way of a person who does his job.
The role of a wonderful person
"The one who applied to the pedagogical institute, in fact, undertakes to become the ideal person, at least for his future students," reflects Simon Soloveichik. – For the students, he is the only one, and they should not suffer because fate gave them a bad teacher. A teacher has no right to be an ordinary person, he – may this blasphemous thought be forgiven me – is forced to play the role of a wonderful person. This role, once assumed, takes years to fulfill and gradually ceases to be just a role – it becomes a character. An ordinary person turns into an extraordinary person – into a teacher. It is not the pedagogical institute that makes him a teacher, but long-term communication with children, for whom – if he is honest – he must be the best person on earth. He simply has nowhere to go, he professionally needs to become a wonderful person. "
"With respect and without aggression"
Firmness, sincerity and, most importantly, the personality of the teacher – this is the personal answer that children are waiting for, existential psychotherapist Svetlana Krivtsova is convinced.
Psychologies: Are teachers special people?
Yes of course. From an early age, they spend most of their time at school. Having ceased to be children, they are not fully included in the system of relationships that is characteristic of adults. The school turns out to be something like a temple, living by its own laws. The perpetrators of which are the teachers.
The child spends almost the whole day with this adult, who in his eyes takes the place of his parents: he must be obeyed, punishment or reward may follow from him. There is a risk of becoming emotionally dependent.
To defend himself, the child establishes a distance by looking for flaws in the teacher or something to ridicule. Another explanation for the desire to "bring" is the lack of human relationships: the child is not understood, he is confused. By attacking the teacher, he provokes his personal reaction, wants to feel the personality in him.
Growing up children need the personality (in the existential psychology Person) of a more mature person as a support. The teacher's firmness (this is a form of a personal answer: without aggression, but with respect), his sincerity and his personality are manifested precisely at these moments and serve as a nourishment and a model for the child.
School psychologists cannot deal with the problems of students, teachers, families at the same time
Nicknames are within the normal range, and aggression is already a sign of global dissatisfaction with the school. The child is skeptical not so much about the teacher as about acquiring knowledge in general. The teacher is not suitable for such students – the study itself ceases to make sense for them.
There are psychologists in schools today. But this is not enough. On the one hand, they cannot deal with the problems of students, teachers, families at the same time. On the other hand, their training is not always adequate, it often does not include the study of, for example, mental pathology, they are not able to solve the problems of aggression and violence.
From young teachers, I increasingly hear about depression in children. Previously, this was rarely mentioned – perhaps less attention was paid to psychological disorders. If a similar problem arises, it is better for the teacher to turn to a psychologist from outside, independent of the school hierarchy.